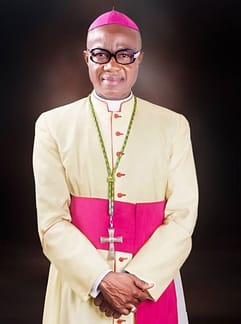 PROFILE OF MOST REV. VALERIAN MADUKA OKEKE
THE ARCHBISHOP OF ONITSHA AND THE METROPOLITAN OF ONITSHA ECCLESIASTICAL PROVINCE
Born: Tuesday, 20 October 1953.
Primary Education: 1959-1966 at St. Anthony's Catholic School, Umudioka, and St. Gabriel's Catholic School, Ifitedunu.
Secondary Education: Christ the King College, Onitsha (1967). His education was interrupted by a civil war in Nigeria (1967-1970). Through the inspiration of then Monsignor Emmanuel Otteh (Late Emeritus Bishop of Issele-Uku) he continued his secondary education at All Hallows' Seminary, Onitsha (1970-1973) and completed at Colliery Comprehensive Secondary School, Enugu (1974).
Post Secondary Education: Philosophical Studies: 1975 – 1977, and Theological Studies: 1977 – 1981, at Bigard Memorial Seminary Enugu and Ikot Ekpene respectively.
Priestly Ordination: Saturday July 11, 1981 by Most Rev. (now Cardinal) Francis Arinze, then Archbishop of Onitsha.
Pastoral Experience: Assistant Priest of Holy Trinity Cathedral, Onitsha (1981 – 1982), Parish Priest of Umuoji (1983 – 1986).
Further Studies: Moral Theology at Alfonsiana, Rome (1986 – 1991). He holds a doctorate degree in Moral Theology. He also holds Diploma in Italian Language, Diploma in French Language, Diploma in German Language and Diploma in Journalism.
Teaching Apostolate: From 1991 till his appointment as the Co-adjutor Archbishop on 9th November 2001, he taught Moral Theology and Ethics at Bigard Memorial Seminary, Enugu.
Rector: He was the Rector of Bigard Memorial Seminary, Enugu from 1996 to 2002.
Episcopacy: Appointed Co-adjutor Archbishop of Onitsha on Friday 9th November 2001. And Consecrated Co-adjutor Archbishop of Onitsha on Saturday 9 February 2002 by then Apostolic Nuncio to Nigeria, Archbishop Osbaldo Padilla. He took over the Metropolitan See of Onitsha on Monday 1st September 2003.
He is at the moment, the Department Chairman of Catholic Bishop's Conference of Nigeria on Pastoral Agents. He has earlier served as the Committee Chairman on Seminaries; the Chairman of Synods and Pilgrimages; Episcopal Chairman of Family and Human Life and Episcopal Chairman of Pastoral Affairs and Liturgy of Catholic Bishop Conference of Nigeria.
Publications/Literary Works:
1. The Nature and Identity of the Church: Nigerian Theological Perspectives (Ed.) 2002.
2. Pastoral Letters:
That they may have life (2004)
The Measure of love (2005)
Our Glorious Heritage (2005)
If only you have faith (2006)
Go Make Disciple of All Nations (2006)
You and the Common Good (2007)
The Family and human life (2008)
Our Greatest Legacy (2009)
The Splendour of Prayer (2010)
Gratitude (2011)
The dignity of Labour (2012)
Living Hope (2013)
Catholic Education and National Development (2014)
Democracy and Christian Values (2015)
Blessed are the Merciful (2016)
Blessed are the Peacemakers (2017)
Mary Our Mother (2018)
The Holy Eucharist: Our Strength (2019)
The Sacraments: Our Treasure (2020)
The Priesthood: Gift and Sacrifice (2021)
Holy Spirit: Man's Helper and Friend (2022)
Contact:
Archdiocesan Secretariat,
No. 1 Mission Road, G.R.A.,
P.O. Box 411,
Onitsha-Anambra,
Nigeria.

09070497007